We are so excited that we can show Squarl Collections to the world. Today we launched the first beta to the first 65 people. We initially thought to bring only 50 people on board, but we were overwhelmed with sign-ups, that we choose to let in a couple of extra people.
What is Squarl Collections?
A while ago, we were frustrated with the number of messages in Microsoft Teams and applications that we need to handle daily.
Many people are overwhelmed with the information in Microsoft Teams. This information overload causes a lot of frustration but does also lead to unproductivity. Why? Because we cannot seem to find the information, we need that easily.
Some of you might be using applications likes OneNote, Microsoft To Do, ... to keep references to messages you want to keep or follow up. Using different applications means that you are constantly losing focus on what you were doing, but it also means that you store information in many of these applications. When you need to recall where you kept it, it might take some time until you remember.
Squarl Collections is a tool that brings all that matters to you into one place. One tool, but it can be used anywhere you work or go. Is it in Microsoft Teams or in a browser? Squarl Collections will be there. No need to think about where you put the data. When you put it in Squarl Collections, you will find it back quickly.
Concepts
Squarl Collections is all about collecting, curating and contextualizing structured and unstructured data like messages, links, documents, ...
Squarl Collections works with collections and items which you put in the collections.
Squarl Collections allows you to tag collections and their items. You have an easy way to search/filter your data. You are in control and you have total freedom. This freedom means that you can use Squarl Collections for task management, knowledge base, bookmarking, follow-up on conversations and much more.
What will Squarl Collections look like?
We try to keep the UI of Squarl Collections as simple as possible. We strongly believe in the concept of less is more.
Saving conversations/chats/... to Squarl Collections
When working within Microsoft Teams, you can add any conversation/chat to Squarl Collections via the message menu.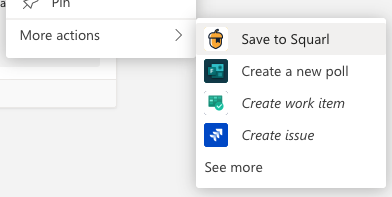 Our dashboard
This is the home of all your collections. Here you can tag, order, categorize your collections and start your workday.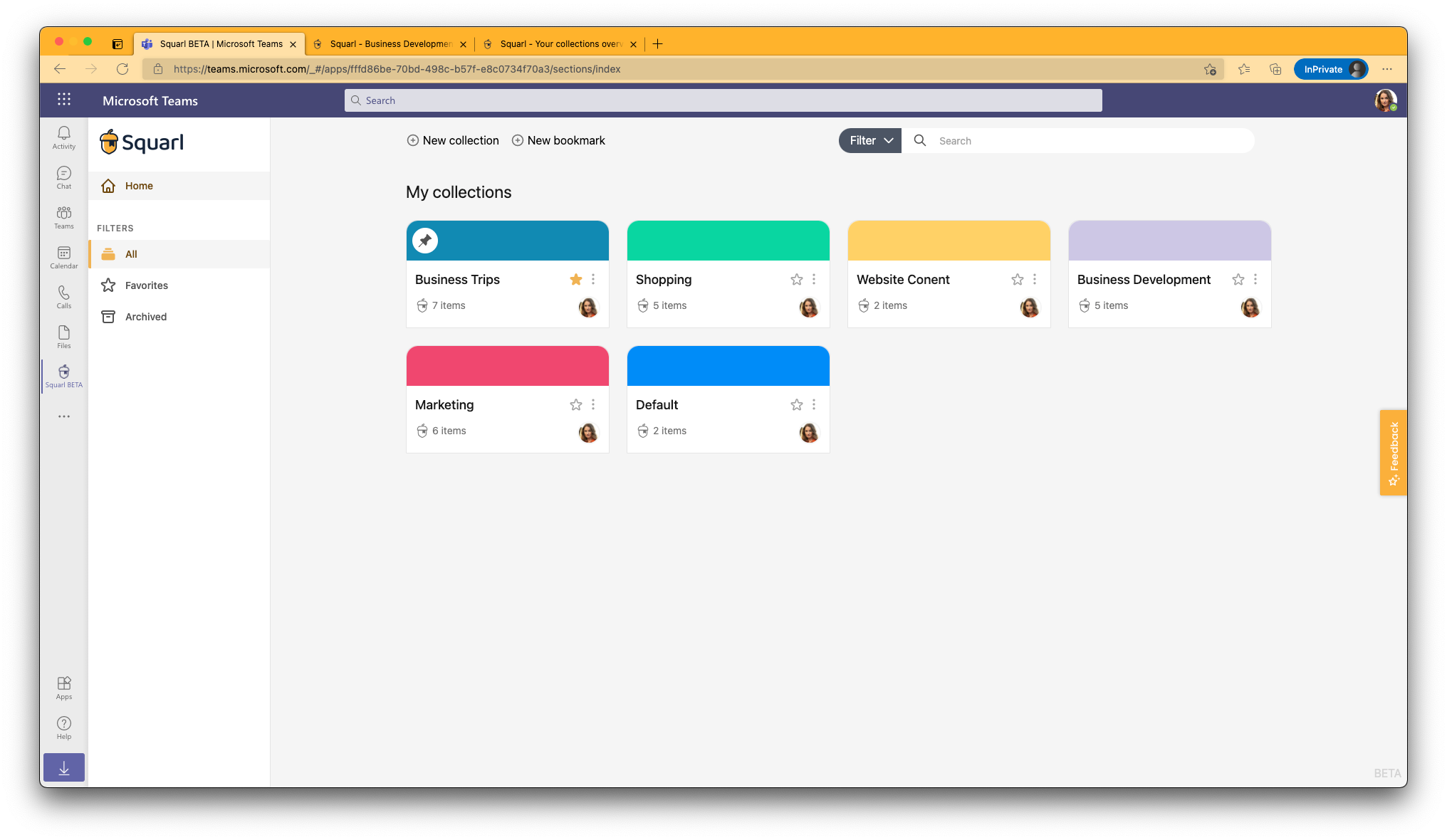 Collections
Collections are intended to keep the information that matters to you in a secure place. You are in control over these collections, and you can decide how to make use of them. Some would use collections for tasks or conversations they need to follow up with, and others might use it to store links to presentations, templates, or tools from the company. The choice is yours.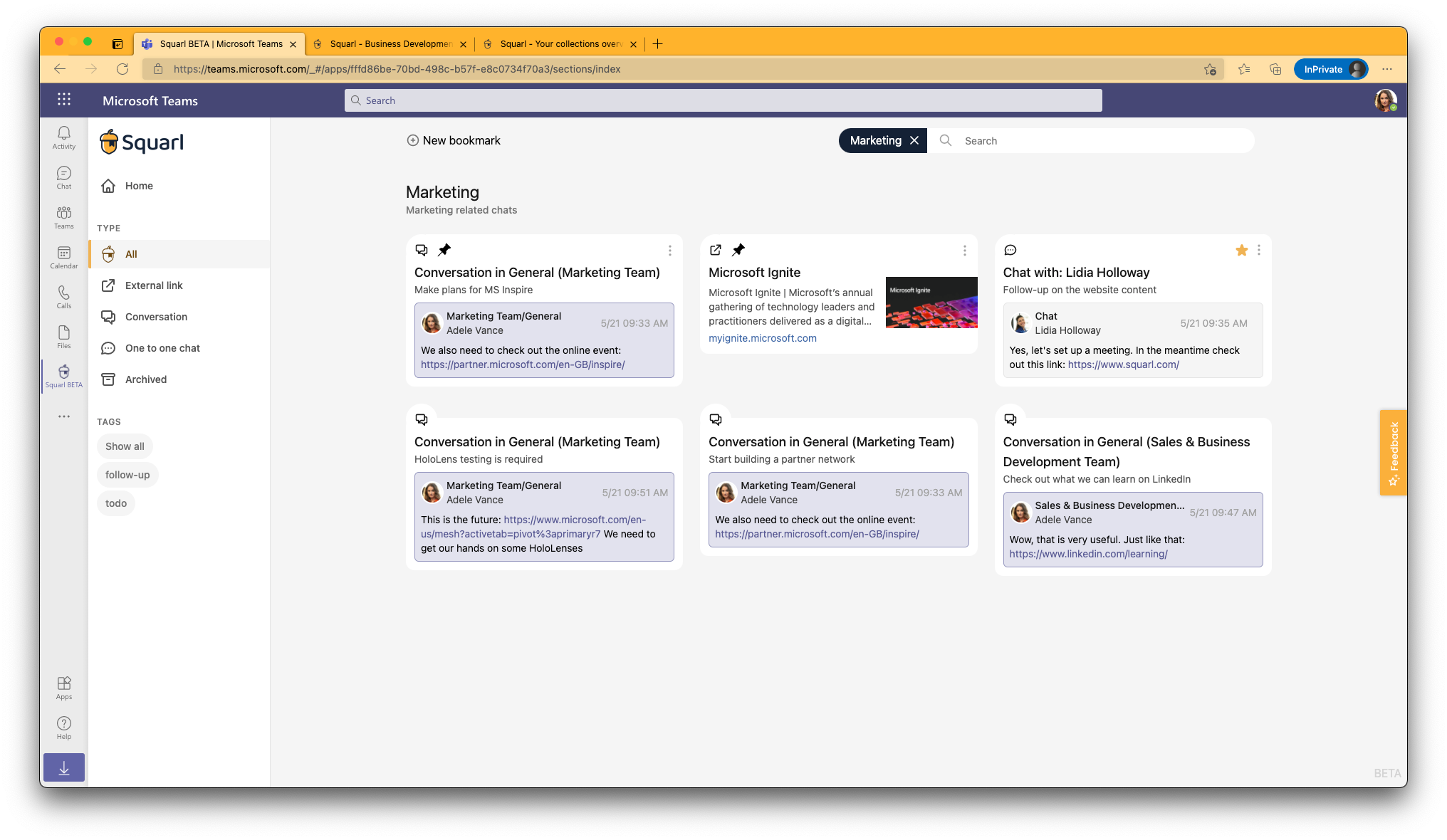 Search
Our search experience makes it simple and easy to search through all your collections and items. As every item has full context of where it came from, you will not have to click on each item to know which one you were looking for.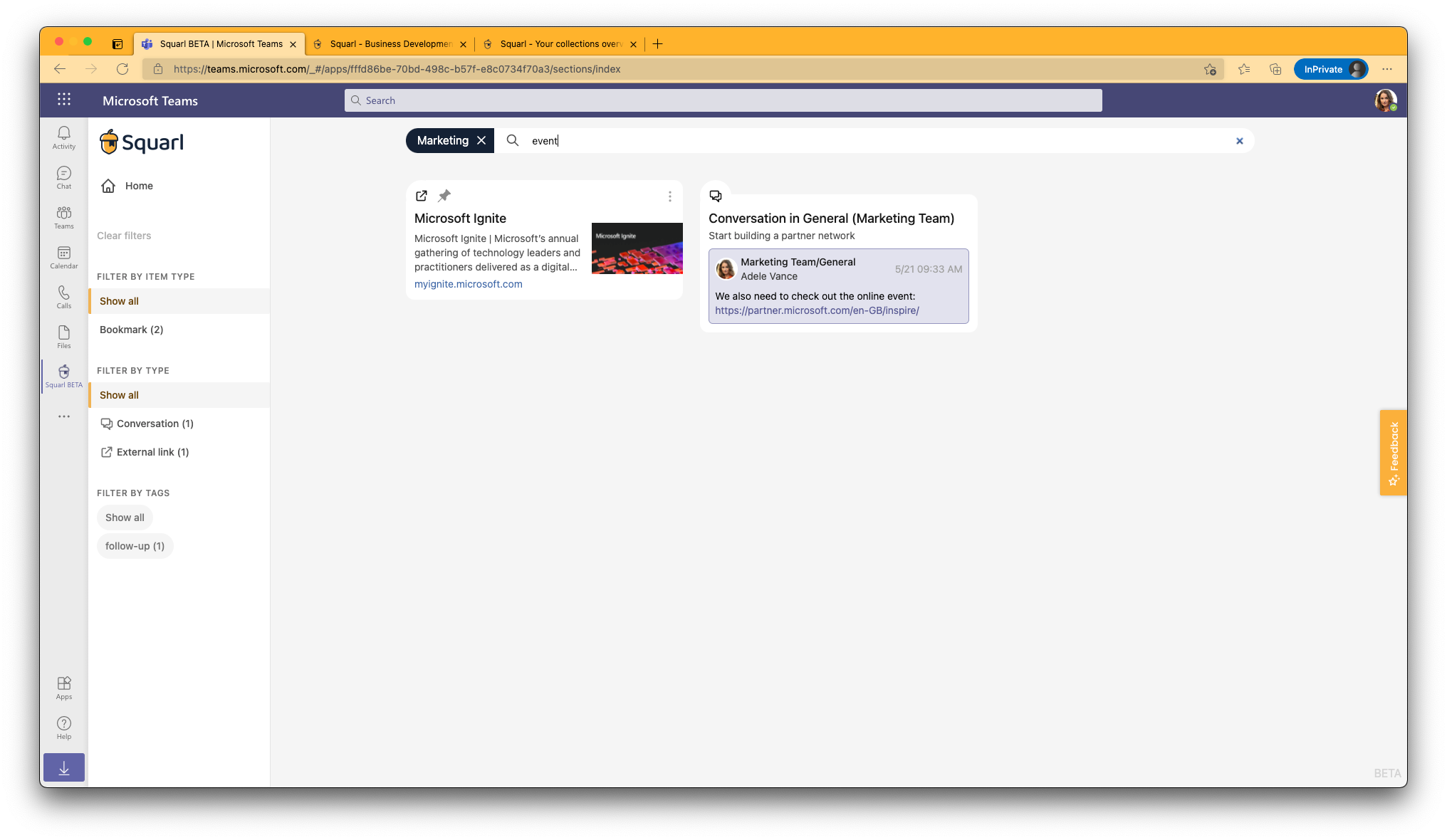 Want to know more?
Get in touch with hello@squarl.com.